Send the message to Environment & Climate Change Canada that Lake of the Woods water quality matters to you — and that you expect action to control blue-green algae blooms.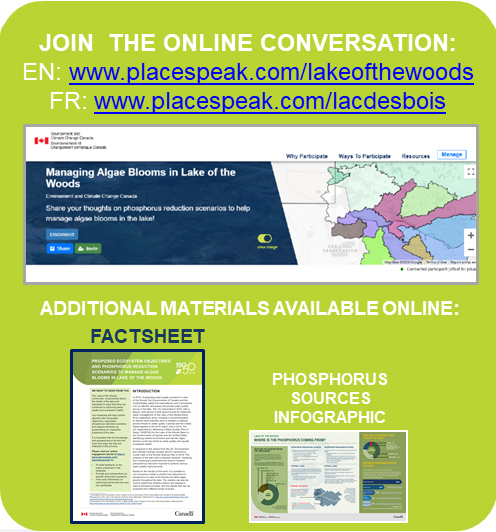 Time is running out to participate in Environment and Climate Change Canada's (ECCC) public engagements on phosphorus reduction scenarios to help manage algae blooms in Lake of the Woods.

Last chances: Webinars close April 14th, comment submission via ECCC Lake of the Woods Engagement site closes April 30th.

How to have your say?
Sign up and share your views with ECCC at its Lake of the Woods Engagement site: www.placespeak.com/lakeofthewoods
Participate in online webinar meetings with ECCC — organized by LOWWSF in partnership with the Lake of the Woods District Stewardship Association (LOWDSA). Hear the proposals, ask questions, and voice you opinion.
Or share your views by email to the ECCC team:

This email address is being protected from spambots. You need JavaScript enabled to view it.
Want homework? Read ECCC's factsheet on its "Proposed Ecosystem Objectives and Phosphorus Reduction Scenarios to Manage Algae Blooms on Lake of the Woods"

Please join us for an opportunity to engage directly with the team responsible for Lake of the Woods at ECCC and voice your opinion of what you want done for Lake of the Woods.
Webinar dates & Registration links:
Background:
For over a decade, we have called on the Canadian government to take action to reduce the problem of blue-green algae blooms on Lake of the Woods. The ask was "simple" or at least we thought so at the time! Do the required science and then put a plan in place that sets water quality objectives and reduction targets for phosphorus that, in excessive quantities, can cause toxic blue-green algae.
ECCC completed a 4-year nutrient and algae research program this past year. Now, it is taking the next steps towards developing a plan for Lake of the Woods. ECCC is sharing its key findings and wants to hear your feedback to help confirm proposed lake ecosystem objectives and identify which phosphorus reduction option(s) are supported by the community to meet those objectives.
ECCC has released a factsheet that provides background information for these consultations. We urge you to read the factsheet and participate in these important discussions directly with ECCC, as we feel it is important for the decision makers to hear your local knowledge and perspectives when it comes to protecting Lake of the Woods water quality.