The International Watershed Coordinator—Keeping Us Working Together.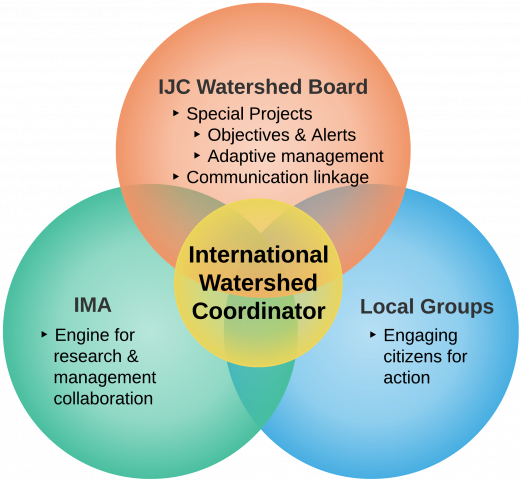 Kelli Saunders is the Foundation's International Watershed Coordinator. A dedicated resource to support and coordinate research, management and civic engagement initiatives underway internationally across our watershed. She keeps the three main spheres of activity in the watershed working together effectively:
International Joint Commission (IJC) and its International Rainy-Lake of the Woods Watershed Board (IRLWWB)
The International Multi Agency Arrangement (IMA) research and management collaboration.
Local groups and agencies engaged in watershed activities throughout the bi-national basin.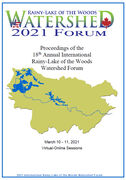 The Proceedings Report of the 2021 International Rainy-Lake of the Woods Watershed Forum is available for download at the Foundation's website:  lowwsf.com/forum-proceedings .Held March 10-11, via Zoom due to Covid-19, over 180 researchers, resource managers, policy makers and members of the public put Lake of the Woods and its watershed under the microscope. The report covers a wide range of subjects:  including: watershed governance, aquatic invasive species, nutrients and algae, water regulation and monitoring.

Most presentations were recorded and are available for viewing for a limited time at lowwsf.com/forum-presentations.

Please download a copy of the report or go to the website to view any presentation recordings that are of interest to you.
Read more: 2021 Watershed Forum Proceedings Report - Get Your Copy!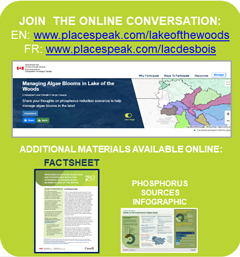 Hundreds provided feedback to Environment and Climate Change Canada on its proposed ecosystem objectives and potential phosphorus reduction targets to tackle the algae bloom problem on Lake of the Woods, via ECCC Lake of the Woods website and during town-hall webinars organized by our Foundation. 

Public sentiment expressed strong desire for Canada to "get on with it" and take steps to reduce phosphorus loads, and to do this in congjunction with Minnesota, that has already finalized phosphours cut targets — the two countries should not have separate targets or approaches. 

Here are some more of the main points that we heard you say...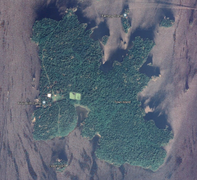 The Nature Conservancy of Canada (NCC) is a non-profit organization that works to protect natural areas through securing properties and managing them for the long term, ensuring their ecological integrity. NCC is partnering with the City of Kenora, local residents, cottagers, and campers to protect 82 hectares (202 acres) on Town Island.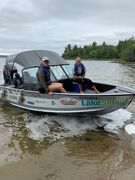 LakeSmart is an award-winning environmental outreach program unique to the Lake of the Woods area of northwestern Ontario. A signature program of the Lake of the Woods District Stewardship Association (LOWDSA), it is focused on environmental education and helping lake users "live and play green" at the lake.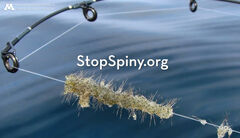 Spiny waterfleas are small aquatic predators native to Eurasia. The first report of spiny waterfleas in North America was in Lake Ontario in 1982 and was introduced to the Great Lakes in ballast water from ocean-going ships. "Spiny" is a species of zooplankton – small animals that rely on water currents and wind to move long distances. They prefer large, deep, clear lakes, but can also be found in shallower waters. 
Read more: Spiny waterfleas are a threat to our lake ecosystems – you can help stop the spread!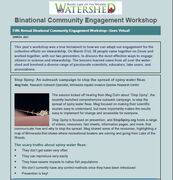 This year's workshop was a true testament to how we can adapt our engagement for the collective efforts on stewardship. On March 31st, 38 people came together on Zoom and worked together, with our two presenters, to discuss the most effective ways to engage citizens in science and stewardship. The lessons learned came from all over the watershed and involved a diverse range of passionate scientists, educators, lake users, and associations.
You can pdf download the report here! (296 KB)
Read more: 2021 Community Engagement Workshop Report Released
Fourth Binational Lake Association Network Event in the books!
In the ongoing spirit of cross-border collaboration, the fourth international Lake Association Network Event took place virtually on November 24, 2020.  A pdf summary report is available for download (449 KB) . The half day workshop was attended by 24 individuals from Ontario and Minnesota, representing 15 different lake associations, resource agencies and organizations.  The session was a mix of very practical and relevant presentations that covered green infrastructure ideas, how to establish an Environment Committee, a Q/A session on effective communication and a roundtable of association highlights.
Read more...
Originally published on August 20, 2020
Since March 2018, Trent University has been in the basin studying nutrient (primarily phosphorus) delivery to Lake of the Woods from both watershed and atmospheric sources. It is well known that much of the nutrients that enter a waterbody are flushed in during storm events, so capturing that data is a definite challenge, especially when you don't live here permanently. Thanks to local agencies and members of the public who are volunteering their time to help Trent, this is now possible, so more robust and indicative data are emerging.
Preliminary results of the data collected to date are showing that phosphorus export in the lower Rainy River tributaries (Everett Creek and Sturgeon, Lavallee and Pinewood Rivers) is strongly associated with sediment material, and the naturally erodible nature of the Rainy River area means that soils in this region are highly sensitive to disturbance.
Read more: Trent University, local partners are working together to understand water quality inputs
Originally published on August 14, 2020
As part of our "Ask An Expert Webinar Series," we heard from Rob Davis of EcoEthic Inc., last week on how septic systems work, how to watch for signs of failure, a few myths and lots of great tips for preventing bigger problems before they happen. I was so impressed with the information, I thought it was important to share it because I know there are a lot of septic system owners out there and these systems don't always come with a user manual.
It was interesting to find out that septic systems were first invented in France about 260 years ago, but were intended only to handle black water (i.e. human waste), not the typical things we let go down the drain like bathing and laundry soap. The systems incorporate not only physical treatment (sinking and floating of material) but, more importantly, biological treatment as well (digestion of waste by bacteria). More microbes in the system equate to better treatment and fewer nutrients exiting the system.
Read more: Prevention is your best strategy for septic systems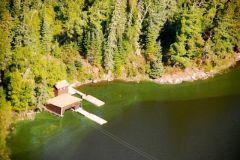 There is a wealth of expertise locally when it comes to water quality, forestry, algae and septic systems and as part of our International Watershed Coordination Program, we are offering a free virtual webinar series this summer to give you access to some of these wonderful experts! Starting on July 29, we will be running weekly lunchtime webinars on Wednesdays at 12 p.m. CT – tune in to learn more about these topics of interest and ask questions.