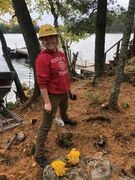 Planting on Lake Vermilion (Credit: Becca Reiss, North St. Louis SWCD)The North St. Louis Soil & Water Conservation District, Vermilion Lake Association, and Minnesota Lakes & River Advocates (MLR) have worked together over the last year to protect Lake Vermilion through a Lake Steward Program.
Landowners interested in the program started by taking a 10-question quiz developed by MLR to "Score Your Shore." A volunteer from the Vermilion Lake Association then offered to visit the landowner to learn their goals for the property. If certain criteria are met, a landowner can be awarded a Lake Steward sign to show they are protecting the lake and encourage others to do so.
A few properties were identified to have some practices implemented to protect the lake. The North St. Louis SWCD utilized the Conservation Corps of Minnesota & Iowa to conduct two shoreline buffer projects. One property included removing invasives species and lawn area and replacing with native trees, shrubs, perennial pants, and native seed. The other property had an area where erosion was occurring from run off from the upland. Shoreline shrubs were planted and native seed was laid down. We hope to see more Lake Stewards in the future!