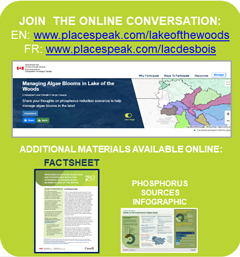 Hundreds provided feedback to Environment and Climate Change Canada on its proposed ecosystem objectives and potential phosphorus reduction targets to tackle the algae bloom problem on Lake of the Woods, via ECCC Lake of the Woods website and during town-hall webinars organized by our Foundation. 

Public sentiment expressed strong desire for Canada to "get on with it" and take steps to reduce phosphorus loads, and to do this in congjunction with Minnesota, that has already finalized phosphours cut targets — the two countries should not have separate targets or approaches. 

Here are some more of the main points that we heard you say...