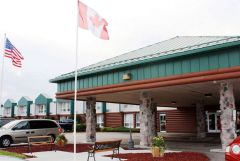 AmericInn Inn, International Falls MN. Conference rate of $96.00 USD per night plus taxes.

Make your reservations by February 22, 2020 and quote the group code WaterForum2020

Reservations: 1-218-283-8000 (front desk);

Important! You must call the front desk to make reservation to get the group rate -- no online reservations or central 800 number reservations for group rate.