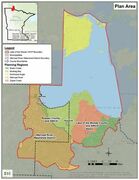 Boundaries for EligibilityLake of the Woods and Roseau Soil and Water Conservation Districts (SWCD) are teaming up to deliver a Forest Stewardship Plan Cost Share Program through the Lake of the Woods Comprehensive Watershed Management Plan.The primary goal of this cost share program is to encourage participants to actively manage their forested lands for water quality benefits. The secondary goal is to increase land protection efforts in the watershed by supporting enrollment in the Sustainable Forest Incentives Program. Enrollees in this program receive an annual payment for each acre enrolled. Enrolled land cannot be developed and it should be managed according to recommendations in the plan.
Eligible applicants must have land within the boundaries of the Lake of the Woods watershed (see map on the right) and must meet eligibility requirements for plan writing. This program is delivered on a first come, first served basis.
Cost share will cover up to $300 + $6.50 per planned acre up to 320 acres, with payment not to exceed 100% of the total plan cost. You must be in the planning region to be eligible for this program. If you are not in the planning region, please contact us for other options.
Call the SWCD or visit https://lowwjpb.org/forest-stewardship for more information! This program is funded by: