The International Watershed Coordinator—Keeping Us Working Together.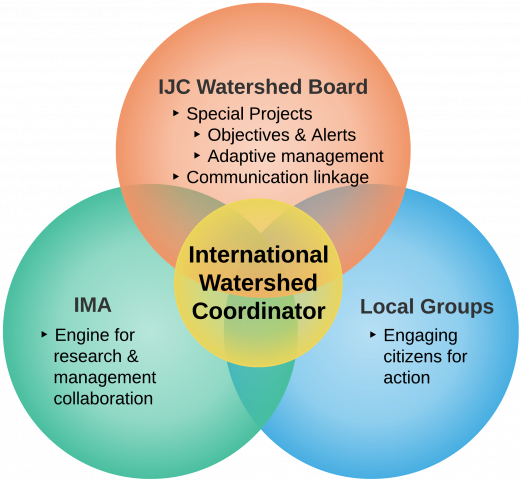 Kelli Saunders is the Foundation's International Watershed Coordinator. A dedicated resource to support and coordinate research, management and civic engagement initiatives underway internationally across our watershed. She keeps the three main spheres of activity in the watershed working together effectively:
International Joint Commission (IJC) and its International Rainy-Lake of the Woods Watershed Board (IRLWWB)
The International Multi Agency Arrangement (IMA) research and management collaboration.
Local groups and agencies engaged in watershed activities throughout the bi-national basin.
Originally published in the Kenora Miner and News on: July 10, 2019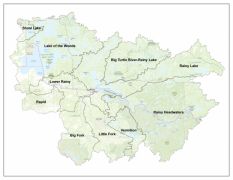 The Rainy-Lake of the Woods Watershed is 69,750 sq. km, roughly 400 km east to west and 260 km north to south. About 41 per cent of the watershed is in the U.S. and 59 per cent is in Canada. If you've travelled to Atikokan or Upsala in Ontario or Ely or Cook in Minnesota, you were still in our watershed. If you've paddled the Turtle River in Ontario or fished in Vermilion Lake in Minnesota, you were still in our watershed. Approximately 14 per cent of the watershed is open water; where there is land, 93 per cent is covered by forest or grassland, and much of that is within provincial parks and national forests. Only 6.4 per cent of the landbase is agricultural, mostly found in the lower Rainy River area.
Read more: What is a Watershed and what's unique about ours?
Originally published in the Kenora Miner and News on: June 24, 2019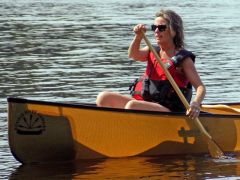 Water…it gives us life, it symbolizes summer, it has spiritual meaning, it calms us, it's what defines our community. To celebrate the importance of water locally and the great efforts collectively to protect it, this column will be dedicated to water throughout the summer months – its quality, its governance, its future and how we can all help to preserve it.
Here in Kenora, we are at the downstream end of the vast Rainy-Lake of the Woods watershed – 69,750 sq.km in size, the size of New Brunswick! We share our water with Minnesota and Manitoba – it is an international treasure, providing drinking water to over three quarters of a million people. What happens upstream impacts what happens downstream and this is why we need to work together with our neighbours on research and on a plan with actions to protect our water.
Read more: Working together to protect Lake of the Woods water quality for future generations