The International Watershed Coordinator—Keeping Us Working Together.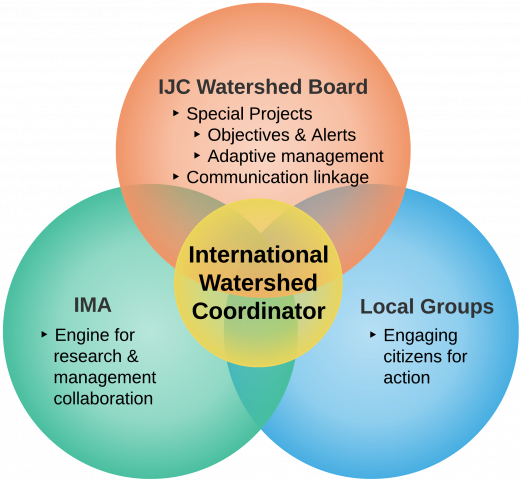 Kelli Saunders is the Foundation's International Watershed Coordinator. A dedicated resource to support and coordinate research, management and civic engagement initiatives underway internationally across our watershed. She keeps the three main spheres of activity in the watershed working together effectively:
International Joint Commission (IJC) and its International Rainy-Lake of the Woods Watershed Board (IRLWWB)
The International Multi Agency Arrangement (IMA) research and management collaboration.
Local groups and agencies engaged in watershed activities throughout the bi-national basin.
Originally published in Kenora Miner and News on September 18, 2019.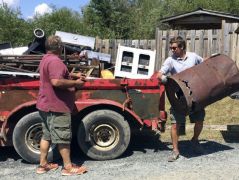 The short answer is YES. Reducing impacts on our environment has to be a collective initiative and every single person and the changes they make will have an impact. In past articles, I've focused on what agencies are doing to understand watershed issues and work towards protection. Today and next week, I'll focus on ideas that we, as watershed citizens, can all do.
One of the common concerns I hear is whether septic systems are having an impact on water quality. If not properly maintained, septic systems can pollute the lake with phosphates and bacteria. Grease, oils, harsh cleaners and supposedly "disposable" personal products can really stress out a septic system, clog it up and reduce its efficiency. Follow this mantra: "If in doubt, don't pour it out". A septic system needs regular check ups and pump outs and needs to be large enough in size for the home it is servicing.
Originally published in Kenora Miner and News on September 4, 2019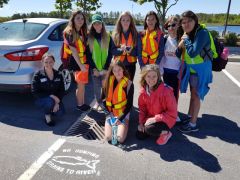 Last week, I mentioned that there are three components to the International Watershed Coordination Program here in our basin, one of them being the "local" or grassroots component. This is where you come in. Protecting water quality is everyone's responsibility, but how does an individual find a way to make a difference? Let me offer a few ideas based on the civic engagement work we do with our partners.
We are so fortunate to have over 40 lake associations in this watershed, most are in Minnesota, but the largest in Ontario is right here. The Lake of the Woods District Stewardship Association (LOWDSA) has been promoting good water stewardship for over 50 years and absolutely anyone – not just waterfront residents – can be a member. They have a strong environmental focus and we partner with them regularly. For the past three summers, for example, LOWDSA has been a key partner in our cross-border drain stencil project working with children in the community to paint the message "A Healthy Lake Starts Here" or "Dump No Waste" beside storm drains, to date, well over 300 drains have been painted in three communities, reminding us that only rain should go down the drain, because these drains direct runoff directly to our nearby waterbodies. As a way to support the many lake associations in the basin, we also host an annual Lake Association Network event, bringing together like-minded individuals who are motivating their members to be good stewards in a wide variety of ways.
Read more: We All Can Play a Role in Protecting Water Quality
Originally published in Kenora Miner and News on August 28, 2019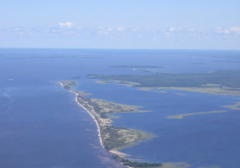 About eight years ago, with coworkers aboard a boat on Rainy Lake, ideas were brewing around the need to somehow coordinate and harness the energy and dedication of individuals working on water issues in this basin and break down communication barriers. Not long after, the concept of establishing an international watershed coordination program was born – a program that would be supported by partners, for partners. My position as International Watershed Coordinator began, with a focus on three levels of integration that, together, make up the International Watershed Coordination Program (IWCP): international, regional and local. Over the years, the Lake of the Woods Water Sustainability Foundation has steered this ship by contributing as a funding partner and facilitator, with our long standing partners from south of the border, the Minnesota Pollution Control Agency and Koochiching Soil and Water Conservation District. Along the way, the province of Manitoba has contributed and, currently, our partners include the International Joint Commission (IJC) and Environment and Climate Change Canada (ECCC).
Read more: International coordination is alive and well on Rainy - Lake of the Woods watershed
Originally published in Kenora Miner and News on August 20, 2019
Several of the articles i
n this column have focused on water quality issues. Today, I'll focus on the successful cooperation that has grown over the last decade between governments, our Foundation, the International Joint Commission (IJC) and other partners to work together to understand the issues and find solutions. You'll get a sense that there is great communication across the border – this is fairly unique. Since the watershed is shared between two provinces, one state and two countries, you can well imagine that there are many players; in fact, there are over 27 agencies with some form of water quality mandate in this watershed. As Watershed Coordinator, my role is to help keep the lines of communication open amongst all these players, help align priorities and ensure partnerships are forged wherever possible. I have to say, the dedication and passion of the people I work with in both countries makes my job very rewarding! More on that in a future article.
Read more: Cross border cooperation is key to ecosystem health
Originally published in Kenora Miner and News on August 13, 2019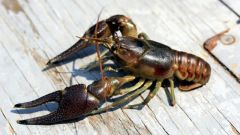 The last few articles have focused on nutrients and algal blooms, given that they are of concern on Lake of the Woods and other lakes in the watershed. But, as noted in previous articles, there are other environmental issues we should all be aware of – some are more concentrated in upstream areas, some are more widespread. I will touch briefly on each.
Contaminants are generally less of a concern here than in other more populated areas, like the Great Lakes. Nevertheless, they can enter the surface and groundwater from what are called "point source discharges" like wastewater treatment plants, stormwater drains, industrial outfalls and more diffuse, "non-point sources" like runoff from agricultural fields or septic systems.The point source discharges are controlled through regulations, but diffuse sources are harder to monitor and manage.
Read more: Contaminants, erosion, invasive species – what's happening?
Originally published in Kenora Miner and News on August 7, 2019
Algae are microscopic, plant-like organisms that can occur naturally in ponds, rivers, lakes and streams. Although they can be olive-green, red or black, depending on the species, the blue-green version most of us are familiar with are actually a group of bacteria, called cyanobacteria. In the Rainy-Lake of the Woods watershed, algae have been around for years and, in fact, explorers, fur traders and settlers reported them 200 years ago. Algae thrive on the nutrients (mainly phosphorus in this part of the country) in the water – some is natural and some is human-caused, like agricultural and stormwater runoff or leaching from septic systems. In some cases, where nutrients are excessive, the algae can grow to the point where they combine and form a bloom or a surface scum.
Read more: Toxic blue-green algae is actually a cyanobacteria
Originally published in Kenora Miner and News on July 31, 2019
Last week, I discussed the impressive cleanup of the Rainy River, including substantial reductions in phosphorus from the paper mills, sewage treatment plants and other sources in the past several decades. The question I left you with was, if phosphorus was reduced, why are we still getting algae blooms?
Originally published in Kenora Miner and News on July 26, 2019
For those of us living at the north end of Lake of the Woods, the Rainy River is a two hour car drive away and perhaps not familiar to us, but this river is the most influential tributary to Lake of the Woods, contributing about 70 per cent of the total water flowing into the lake. This week, we take a look at a bit of the fascinating history of the cleanup of the Rainy River – which has had a direct impact on the health of Lake of the Woods.
Read more: The Rainy River – an environmental restoration success story
Originally published in Kenora Miner and News on July 18, 2019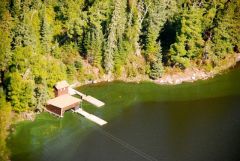 Last week, I outlined what a "watershed" is and described the geography of ours – the Rainy-Lake of the Woods Watershed. It is huge and diverse, so it goes without saying that the environmental issues are just as diverse.
Low populations, fairly low industrial impacts, lots of forest cover and water all make for a generally healthy watershed. But over the years as more attention turned towards ecosystem health, it became clear that there are, indeed, environmental stresses here and what is a stress on Lake of the Woods is not necessarily a stress upstream. Let's go on a tour of the watershed from east to west and see how the issues differ as we move downstream.
Originally published in the Kenora Miner and News on: July 10, 2019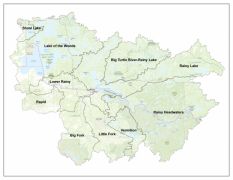 The Rainy-Lake of the Woods Watershed is 69,750 sq. km, roughly 400 km east to west and 260 km north to south. About 41 per cent of the watershed is in the U.S. and 59 per cent is in Canada. If you've travelled to Atikokan or Upsala in Ontario or Ely or Cook in Minnesota, you were still in our watershed. If you've paddled the Turtle River in Ontario or fished in Vermilion Lake in Minnesota, you were still in our watershed. Approximately 14 per cent of the watershed is open water; where there is land, 93 per cent is covered by forest or grassland, and much of that is within provincial parks and national forests. Only 6.4 per cent of the landbase is agricultural, mostly found in the lower Rainy River area.
Read more: What is a Watershed and what's unique about ours?