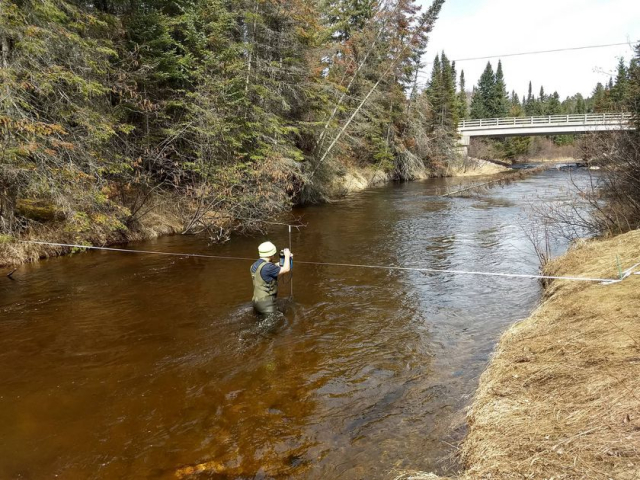 Andy Williams, Field Lead with Trent University is measuring flow at Pickerel River, Quetico Provincial Park WES GREENWOODSince March 2018, Trent University has been in the basin studying nutrient (primarily phosphorus) delivery to Lake of the Woods from both watershed and atmospheric sources. It is well known that much of the nutrients that enter a waterbody are flushed in during storm events, so capturing that data is a definite challenge, especially when you don't live here permanently. Thanks to local agencies and members of the public who are volunteering their time to help Trent, this is now possible, so more robust and indicative data are emerging.
Preliminary results of the data collected to date are showing that phosphorus export in the lower Rainy River tributaries (Everett Creek and Sturgeon, Lavallee and Pinewood Rivers) is strongly associated with sediment material, and the naturally erodible nature of the Rainy River area means that soils in this region are highly sensitive to disturbance.
Trent's determination to gather watershed data is mirrored by the helping hands of their project volunteers – the storm samplers. These local community members lend their time to sample tributary sites just after large rainfall events. Simply put, they help gather improved, more detailed datasets to make stronger inferences about what is happening within the Lake of the Woods watershed. These efforts have been tremendously helpful, especially as longer-term trends in the data become more apparent. The first monitoring year (2017-2018) was particularly dry, and the following year could be placed on the other end of the spectrum, with large rainfall events occurring throughout most of the growing season. The current hydrologic year, although not yet completed, is shaping up to be more of a moderate, "normal" year. This means that the current (3rd) year should allow for the gauging of more normalized conditions of the watershed and its tributaries to provide a more accurate picture of the processes at play.
As the data emerge, landowner education and involvement in best management practices becomes ever more important. Landowners can help reduce sediment-associated phosphorus losses from their properties by protecting vegetation that grows along river banks and trying to avoid disturbing soils within these vegetated buffer zones. Simple setbacks might go a long way toward improving water quality in this region!
Huge thanks go out to the volunteers who have made this project a success such as John Bartol and team – Quetico Provincial Park, Lionel and Deannie Lunyk – Landowners on McGinnis Creek, Kim Jo Bliss and team – Emo Agricultural Research Centre, John Vandenbrand – Landowner on the Pinewood River.
This series is provided as part of the International Watershed Coordination Program of the Lake of the Woods Water Sustainability Foundation (www.lowwsf.com).
Kelli Saunders, M.Sc., is the International Watershed Coordinator with the Lake of the Woods Water Sustainability Foundation