Heartfelt thank you to a true Lake of the Woods ambassador, Art McKenzie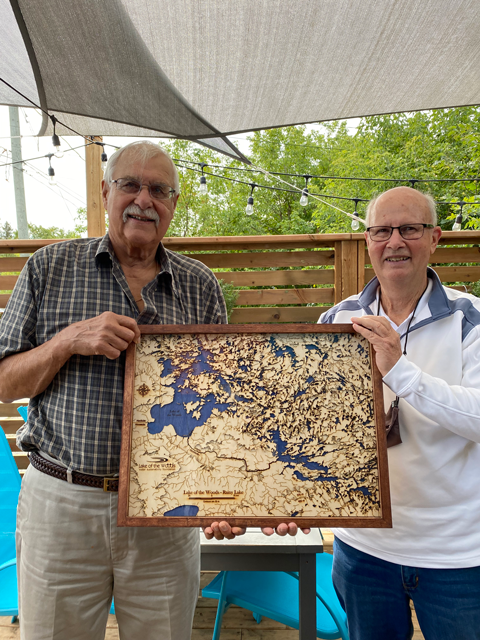 Art McKenzie, at left, receives a wood cut map of Lake of the Woods as a retirement gift, presented by Tony Stevens, LOWWSF PresidentA huge "thank you" to Art McKenzie for his decades of volunteer service to Lake of the Woods, as a founding Director and Treasurer of the Lake of the Woods Water Sustainability Foundation, and before then, a long time Director and President of the Lake of the Woods District Stewardship Association.
Last fall, LOWWSF Directors met with Art to thank him in person — a ceremony delayed by COVID restrictions since Art's retirement from the Foundation Board in June 2020. Tony Stephens, President of the Foundation, presented Art with a retirement gift honouring his contribution to our international lake and its watershed – a wood-cut map of the entire Lake of the Woods watershed.
Prior to his roles at the Foundation, Art served as a Director of the Lake of the Woods District Stewardship Association for over a decade and was President from May 2003 to May 2005. As President, Art was instrumental to activities that set the stage for the formation of the Foundation and securing an IJC mandate for Lake of the Woods. Seminal to this was hosting the first water quality fact-finding tour with the International Joint Commission (IJC) in 2004, with the assistance of the Rt. Honourable John Turner. This ultimately led to the establishment of the Foundation and the problems of nutrients and algae blooms on Lake of the Woods being elevated to an international concern.
Art's enthusiasm for Lake of the Woods and protecting its waters goes back many years. He was inspired to get involved by the passion of former LOWDSA Directors Jack McKenzie and Steve Steigerwald, and former Executive Director Gerry Wilson.
Art and his family were Lake of the Woods cottagers for many years, first on Big Stone Bay. In 1994, they moved to Whitefish Bay and started a six-year build of what became their permanent home in 2001, when Art sold his Winnipeg business, Randall Plumbing and Heating Ltd. and retired to the lake.
Art says he's proud of LOWWSF's achievements, noting that the annual International Rainy-Lake of the Woods Watershed Forum and the State of the Basin Reports were catalysts to international collaboration and the milestone achievement of getting a mandate for the IJC from governments and its International Rainy-Lake of the Woods Watershed Board established. He's also proud and grateful for all the people who care about our lake and supported the Foundation and its efforts over the years.
From all of us at LOWWSF, a giant "thank you" to Art and best wishes for life in retirement at the lake!