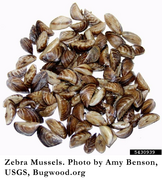 For the second of our 2023 Ask an Expert seminars, we will be looking at efforts underway across the watershed to identify, monitor and respond to aquatic invasive species.

Over the past few years, AIS specialists working with a number of Canadian and US agencies in the Rainy – Lake of the Woods watershed identified a list of 19 high priority alien invasive species that are either present or pose a risk of becoming established here. Programs are underway to track, manage and even attempt to eradicate invasive species in our watershed and today we'll hear from some of the folks involved in this work.

At the same time, interest in citizen science is growing and there are a number of programs in place across the watershed for people who live here to measure water quality, record invasive species sightings, and monitor changes to the ecosystem.

In this interactive webinar, we'll sit down for a discussion with Chris Herc, Amanda Weberg and Ashley Hoffmeister and the LOWDSA 2023 LakeSmart Team - Luc Boucha, Emilia Mastromatteo and Tessa Penner. We will learn about community-based science, monitoring, and action to stop aquatic invasive species across this international watershed.

We encourage audience participation for this webinar, so if you have questions or know of a good example of community-led science in action in your part of the watershed, we hope you'll share this with us during the discussion. We look forward to having a good conversation and learning from one another about how we all can participate in science and action to support the health of our waters.
About the Presenters
Please join us by registering here. Register Now
Note that the session will be recorded for rebroadcast to the LOWWSF website.