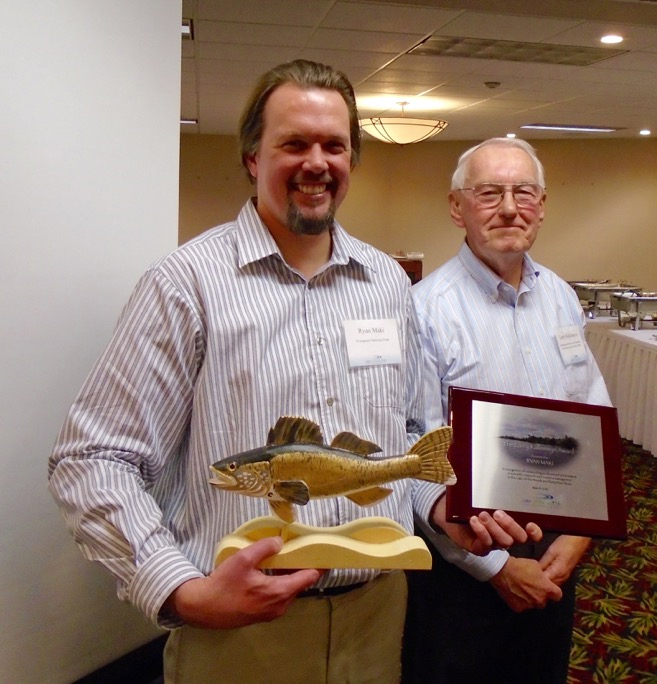 2016 Kallemeyn Award recipient, Ryan Maki of Voyageurs National Park accompanied with Larry Kallemeyn USGS (retired), presenting the award on behalf of the FoundationThe Foundation presented Ryan Maki of Voyaguers National Par, U.S. National Parks Service, with the Kallemeyn Award, recognizing his outstanding professional achievements and contribution to research and resource management in the Rainy-Lake of the Woods basin. Larry Kallemeyn, for whom the award is named, was on hand to make the presentation. Ryan was singled out for his:
Outstanding achievements as Aquatic Ecologist for Voyageurs National Park.
Effectiveness as a collaborative researcher and skilled communicator who is highly regarded by park staff, the IJC, and resource professionals on both sides of the Canada-USA border
Being the "go to" person for information during the preparation of the Rainy-Lake of the Woods State of the Basin Report.
Effectiveness as Project Manager for the IJC Rainy-Namakan Plan of Study.
Contributions to the International Rainy-Lake of the Woods Watershed Forum.
With the Kallemeyn Award, the Foundation and the international research community thank Ryan for his dedication, outstanding research, and efforts to foster collaborative and cooperative approaches that truly carry forward the Kallemeyn "legacy" and which have contributed immensely to advancing science and management in the basin. A resounding "congratulations" from all of us to Ryan!