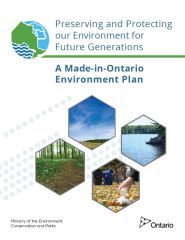 Protecting water quality on Lake of the Woods is back as a priority with the Government of Ontario.
In its new environment plan, the Ontario Government is making reducing phosphorus on Lake of the Woods a priority. The plan focuses on key areas of action to protect the waters in the province. Lake of the Woods is being singled out for provincial action, alongside the Great Lakes, Lake Simcoe, the St. Clair River and the English-Wabigoon River system.
The Lake of the Woods Water Sustainability Foundation applauds the Government of Ontario for its recognition and commitment to protect the quality of the Lake of the Woods by continuing to work with partners, on reducing phosphorus to combat toxic blue-green algae.
Momentum is building towards actionable targets to reduce phosphorus to combat blue-green algae blooms. At the Foundation, we've been working with our partners to build the key pieces of a sustainability plan for Lake of the Woods. Minnesota has completed its nutrient research and has developed a draft plan to cut phosphorous by 18.4% -- the Minnesota Plan is currently under review by the U.S. EPA and should be finalized by next spring. Environment and Climate Change Canada's nutrient research is well underway and should be completed by spring of 2020. Ontario has been a key partner in the development of the first nutrient budget and water quality models for Lake of the Woods. We look forward to Ontario's continued engagement with partners around this binational great lake to develop concrete actions to improve and protect our water quality.
Unveiled by Minister Rod Phillips on November 29, the plan is available at the Ontario Environment Registry for 60 day public review and comment, closing January 28, 2019 https://ero.ontario.ca/notice/013-4208.