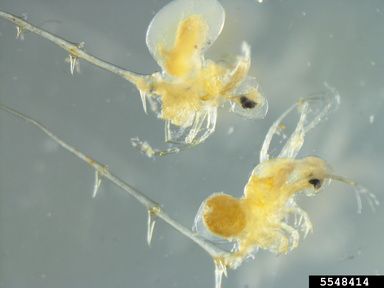 Spiny waterflea is one of the invasive species in this basin. Gary Montz / Minnesota Dept. of Natural ResourcesRusty crayfish, spiny waterflea, zebra mussels, purple loosestrife, rainbow smelt, narrow-leaved cattail are just a few of the over 15 aquatic/riparian species here in the Lake of the Woods and Rainy River area that have come from somewhere else, they are not native to this part of the world.
In the broad sense, invasive species have the potential to drastically change the ecosystem, aggressively out-competing native species, changing the quality of water and affecting the food web, threatening wildlife and woodlands and causing significant economic losses to forestry, agriculture, fisheries, and other industries affected by their impact. Reducing the spread of these invasives is everyone's responsibility, but it's of particular interest to a group of specialists from Minnesota, Ontario and Manitoba who meet regularly on this topic.
For several years now, invasive species specialists from the three jurisdictions have been gaining a better understanding of the invasives in our waters, where they are coming from, best prevention strategies and ways to encourage informed education and outreach. These folks are part of one of the subgroups of the larger International Multi-Agency Arrangement, a collaborative formed in 2009 to co-operate on ecosystem health issues in the basin, from water quality to erosion, to invasive species. One initial product this group is pursuing is a basin-specific query tool and web interface that combines the reported aquatic invasive species from Minnesota, Ontario and Manitoba into one platform. Users will be able to see which species have been reported in their part of the watershed, online and up to date. The group has also produced a point in time observation map as baseline information. This group is also working with the International Joint Commission to do a risk assessment for this basin – it's important to know the species of greatest risk to this area in order to better focus our attention on prevention strategies specific to those species.
As part of its communication plan, this group felt it was imperative to send out messaging via social media right around the time of the opening of walleye season this past spring. With the financial help and expertise of the Ontario Federation of Anglers and Hunters (OFAH), three posts went out in late April and early May on the impact of zebra mussels and spiny waterflea on walleye, zebra mussels in Lake of the Woods and the importance of prevention by practicing "Clean Drain Dry".
Thanks to OFAH "boosting" the posts for us as well as partnering with pro fisherman, Jeff Gustafson, to share the posts, we managed to reach over 100,000 impressions throughout the entire basin, so getting the word out to a crowd reached a whole new level. We hope to do more of this through the summer – if you see the posts, please share (check the posts out on OFAH's Facebook, Twitter and Instagram pages). And, more importantly, if you go out in your boat, no matter what the waterbody, remember to Clean, Drain, Dry your equipment and boat when you are done, to be sure you don't give an invasive a free ride!
As someone who works very closely with this collaborative group, I would be happy to answer any questions you may have or direct you to the right expert. Feel free to email me at This email address is being protected from spambots. You need JavaScript enabled to view it..
This series is provided as part of the International Watershed Coordination Program of the Lake of the Woods Water Sustainability Foundation (www.lowwsf.com).
Kelli Saunders, M.Sc., is the International Watershed Coordinator with the Lake of the Woods Water Sustainability Foundation