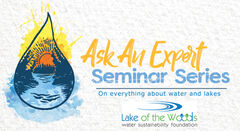 Join us this fall for a series of free "Ask An Expert" lunchtime webinars, as we study our watershed and learn how to protect our natural resource assets. Our lineup of experts have a wealth of knowledge and this is your chance to connect directly with them.

Seminars will consist of an expert's presentation followed by a Q&A opportunity.  Pre-registration is required.  More details and registration for the seminars at the links below.

Space is already filling up so please Register Now! 


October 12 @ 12:00 p.m. CST:  Dr. Cathy Eimers, Trent University,"Nutrient Export in the Canadian Tributaries"

October 19 @ 12:00 p.m. CST:  Jesse Anderson, Minnesota Pollution Control Agency "Minnesota's Plan to Identify and Address Excess Phosphorus Pollution in Lake of the Woods and its Watershed, 1999-2021"

October 26 @ 12:00 p.m. CST:  Dr. Caren Binding, Environment and Climate Change Canada, "Lake of the Woods from Space: Satellite Observations for Algal Bloom Monitoring"

November 2 @ 12:00 p.m. CST:  Dr. Adam Heathcote, Science Museum of Minnesota, "Lake of the Woods: A Story of Pollution, Recovery, and the Road Ahead"

November 9 @ 12:00 p.m. CST:  Dr. Scott Higgins, IISD - Experimental Lakes Area, "Climate Change and it's Effects on Lake Ecosystems in Northwestern Ontario"