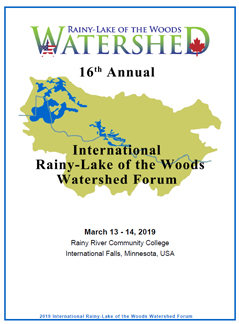 The Draft 2019 Forum Program & Abstracts for the International Rainy-Lake of the Woods Watershed Forum is now available.
The Forum starts at 11 am on March 13 and ends at 4:30 pm on March 14 - Rainy River Community College in International Falls, MN.

The 2019 Forum program features 27 oral presenations and 5 poster presentations in themed sessions on:
Binational updates
Environment & Climate Change Canada and Trent Univeristy Science on Lake of the Woods and the Rainy River
IISD - Experimental Lakes Area Science, including studies of the effects of reservoir drawdown, nanosilver, mercury and spills of heavy crude oil and diluted bitumen
Updates on advanced remote sensing methods
MPCA's water quality and fisheries assessment of the Rainy River.
Ecology of beavers, muskrats, sturgeon recovery and much more!
View or download the Draft 2019 Forum Program & Abstracts.
If you plan to attend and have not registered already, please register asap! Register Now