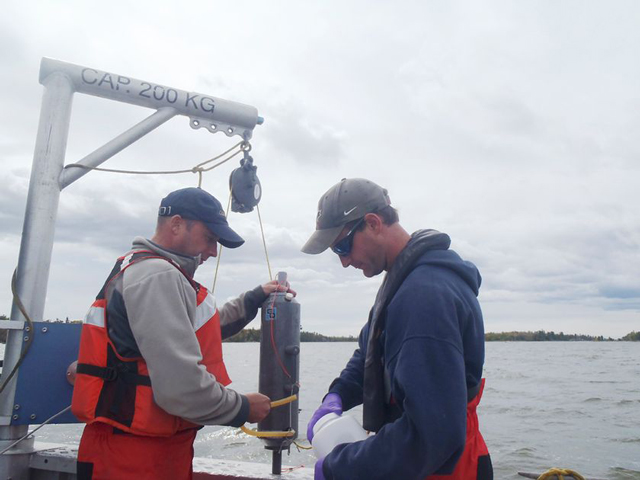 Environment and Climate Change Canada will host a public webinar to provide an update on ECCC's Lake of the Woods science program (2016-2020) on Monday December 9th from 9:30am - 11:00am CST / 10:30am-12:00pm EST.

The webinar will include an overview of the integrated modelling framework that has been developed through the program, recent research results on Lake of the Woods water quality, as well as a summary of the 2019 algal bloom report satellite observations.

Space is limited and pre-registration is required. See the ECCC invitation below for pre-registration information to access the webinar log-in details.


ECCC Webinar Invitation & Preregistration Details:
Please join us on Monday December 9th from 9:30–11:00am CST/10:30am-12:00pm EST for a webinar that will provide an update on ECCC's Lake of the Woods science program (2016-2020), and to hear updates from other organizations on their research results and upcoming plans.
-------------------------------------------------------
To register for this meeting
-------------------------------------------------------
Go to https://gts-ee.webex.com/gts-ee/j.php?RGID=r03f3582eefacc2e83eef7c2deca487f8
You will then receive a confirmation email with instructions for how to join the meeting on December 9th.

Note: If you already registered for this meeting, you do not need to register again.

-------------------------------------------------------
For assistance
-------------------------------------------------------
1. Go to https://gts-ee.webex.com/gts-ee/mc
2. On the left navigation bar, click "Support".
3. Call 1-800-226-6338 or 613-941-9554

You can also contact me at: This email address is being protected from spambots. You need JavaScript enabled to view it.
We look forward to your participation in the webinar!
Marie-Claire Doyle
Great Lakes Harmful Pollutants
Environment and Climate Change Canada / Government of Canada
This email address is being protected from spambots. You need JavaScript enabled to view it. / Tel: 905-336-6423

Section des polluants nocifs des Grands Lacs
Environnement et Changement climatique Canada / Gouvernement du Canada
This email address is being protected from spambots. You need JavaScript enabled to view it. / Tél: 905-336-6423