Jesse Anderson of the Minnesota Pollution Control Agency Receives the Kallemeyn Award for Scientific Achievement
(International Falls, MN) March 13, 2019 – Jesse Anderson, Research Scientist with the MPCA, is the 2019 recipient of the Kallemeyn Award, recognizing his outstanding professional achievements and contributions to research and resource management in the Rainy-Lake of the Woods watershed.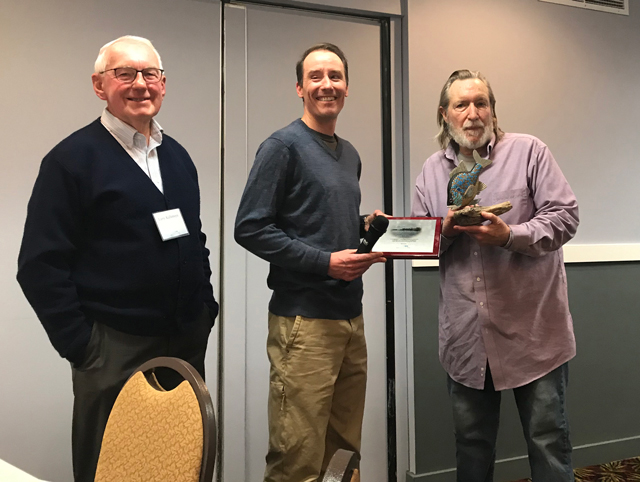 From left: Larry Kallemeyn, award recipient Jesse Anderson, Nolan BarotonoThe Kallemeyn Award was presented to Jesse by the Lake of the Woods Water Sustainability Foundation on behalf of the 160 researchers and resource managers from the United States and Canada attending the 2019 International Rainy-Lake of the Woods Watershed Forum in International Falls, MN.
Jesse is described by his colleagues as the "go to" guy for information in Lake of the Woods watershed and other areas in northern Minnesota including the Lake Superior the Upper Mississippi watersheds. He is a leader in his field of science and a strong collaborator committed to engaging other agencies and the public on both sides of the international border in the work to protect the waters shared between Minnesota and Ontario.
For over twenty years, Jesse has been a major player in the MPCA's monitoring and research in the Rainy-Lake of the Woods watershed. Examples include the detailed studies leading to publication of the Lake of the Woods Monitoring and Assessment Report in 2016 and the development of the Lake of the Woods TMDL Report outlining ways to maintain or improve water quality to address the State's listing of the lake as impaired. Jesse's impact extends beyond Lake of the Woods, including assessments of the Little Fork and Big Fork rivers, participation in the National Lakes Assessment Project, Sentinel Lakes monitoring and the MPCA's Intensive Watershed Monitoring Program.
In addition to his research and collaboration record, Jesse was recognized for his leadership in organizing the publication of a special issue on Lake of the Woods in the Journal of Lake and Reservoir Management, bringing together a broad team of researchers and making the science available to the world.
The Kallemeyn Award, named after Larry Kallemeyn, U.S. Geological Survey (retired) is presented annually by the Foundation to an individual who has demonstrated in the Rainy-Lake of the Woods watershed:
Outstanding professional achievement in scientific research or resource management.
Significant contributions to collaborative and cooperative approaches to research or resource management internationally.
The selection committee consists of researchers and resource managers from both the United States and Canada. It was their unanimous recommendation to the Foundation that Jesse Anderson's contributions epitomize the values represented by the award.
With the Kallemeyn Award, the Foundation and the international research community at the Forum thank Jesse for his years of dedication, outstanding research, and efforts to foster collaborative and cooperative approaches that truly carry forward the Kallemeyn "legacy" and which have contributed immensely to advancing science and management in the basin.
A resounding "congratulations" and thanks to Jesse!
For more information on the Kallemeyn Award: https://lowwsf.com/kallemeyn-award or
contact Todd Sellers, Executive Director, Lake of the Woods Water Sustainability Foundation.
866-370-8891 This email address is being protected from spambots. You need JavaScript enabled to view it.