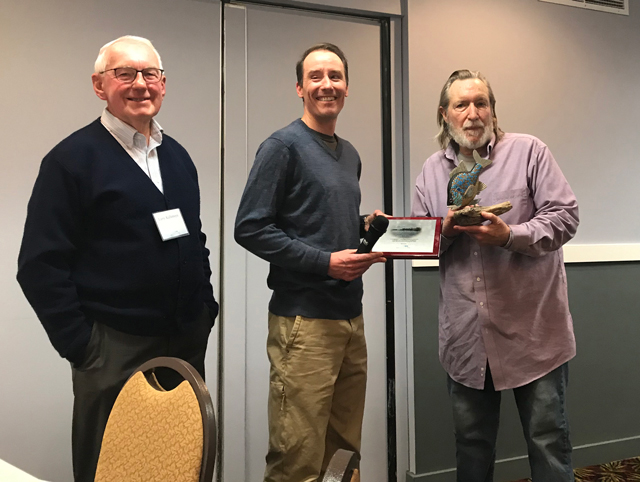 From left: Larry Kallemeyn, award recipient Jesse Anderson, Nolan BaratonoJesse Anderson, Research Scientist with the MPCA, is the 2019 recipient of the Kallemeyn Award, recognizing his outstanding professional achievements and contributions to research and resource management in the Rainy-Lake of the Woods watershed.

The Kallemeyn Award was presented to Jesse by the Lake of the Woods Water Sustainability Foundation on behalf of the 160 researchers and resource managers from the United States and Canada attending the 2019 International Rainy-Lake of the Woods Watershed Forum in International Falls, MN.
Read the full 2019 Kallemeyn Award announcement
The Kallemeyn Award is presented annually by the Foundation to an individual who has demonstrated in the Rainy-Lake of the Woods watershed:
Outstanding professional achievement in scientific research or resource management.
Significant contributions to collaborative and cooperative approaches to research or resource management internationally.
This award is named in honor of its first recipient, Larry Kallemeyn, USGS (retired). Throughout his career Larry made significant contributions to scientific understanding and resource management in the basin. Importantly, Larry was the consummate professional and his collaborative and cooperative approach contributed significantly to cross border collaboration, public engagement and understanding for this international lake and its watershed.

The selection committee for the Kallemeyn Award consists of researchers and resource managers from both Canada and the United States. At the recommendation of the selection committee, the Foundation presents the Kallemeyn Award annually at the International Rainy-Lake of the Woods Watershed Forum.
Previous Kallemeyn Award recipients:
2019 – Jesse Anderson, Minnesota Pollution Control Agency
2018 – Kathleen Ruhland, Queen's University; Kevin Peterson, Minnesota Department of Natural Resources; & Gail Faveri, Environment and Climate Change Canada
2017 – Mark Edlund, St. Croix Watershed Research Station, Science Museum of Minnesota
2016 – Ryan Maki, Voyageurs National Park, U.S. National Park Service
2015 – Ken Beatty, IISD Experimental Lakes Area, Fisheries and Oceans Canada
2014 – Darryl McLeod, Ontario Ministry of Natural Resources and Forestry
2013 – Andrew Paterson, Ontario Ministry of Environment and Climate Change
2012 – Lee Grim, Voyageurs National Park, U.S. National Park Service
2011 – Tom Mosindy, Ontario Ministry of Natural Resources and Forestry
2010 – Nolan Baratono, Minnesota Pollution Control Agency
2009 – Bev Clark, Clark Environmental Consultants / AECOM / Ontario Ministry of Environment
2008 – Larry Kallemeyn, United States Geological Service