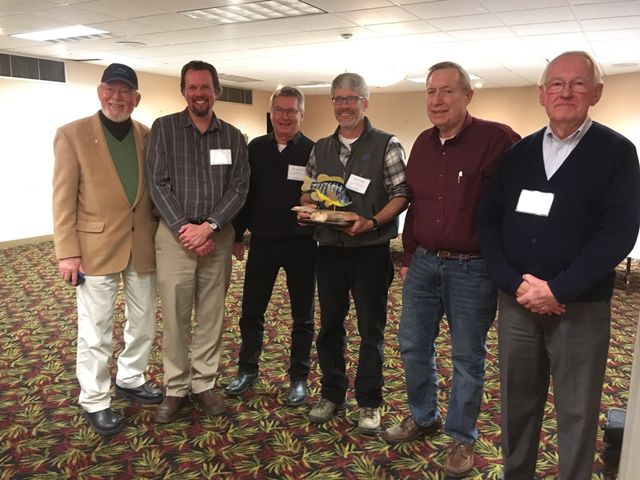 Mark Edlund (centre) 2017 Kallemeyn Award recipient. Pictured with previous awardees (l-r) Lee Grim, Ryan Maki, Tom Mosindy, Nolan Baratono, Larry KallemeynDr. Mark Edlund is the 2017 recipient of the Kallemeyn Award, recognizing his outstanding professional achievements and contributions to research and resource management in the Rainy-Lake of the Woods basin. Mark is Senior Scientist at the Science Museum of Minnesota's St. Croix Watershed Research Station in Marine on the St. Croix Minnesota.
The award was presented to Mark by the Lake of the Woods Water Sustainability Foundation on behalf of the international research community at the 2017 International Rainy-Lake of the Woods Watershed Forum. Larry Kallemeyn, U.S. Geological Survey (retired), for whom the award is named, made the presentation personally - an honor for both Mark and for the Foundation.
International research collaborations led by Mark are providing the keys to unlocking the Lake of the Woods story about what is causing the blooms of blue green algae. These studies are foundational to Minnesota's Impaired Waters Study for Lake of the Woods that is developing phosphorus objectives and targets for the lake. These studies are significantly advancing our understanding of how past and current sources of phosphorus pollution are interacting with climate warming and lake stratification to stimulate algae blooms.

Mark has been described as the "spark plug" for the Science Museum of Minnesota's involvement in the Rain-Lake of the Woods watershed. He has been catalytic to bringing together collaborative partnerships of government, university and public stakeholders from the U.S. and Canada to answer the compelling questions for protecting the lakes and rivers in the Rainy-Lake of the Woods watershed. Mark's skill and enthusiasm as a presenter or technical information to technical and non-technical audiences has contributed significantly to academic and public understanding.
The Kallemeyn Award is presented annually by the Foundation to an individual who has demonstrated in the Rainy-Lake of the Woods watershed:
Outstanding professional achievement in scientific research or resource management
Significant contributions to collaborative and cooperative approaches to research or resource management internationally.
The selection committee for the Kallemeyn Award consists of researchers and resource managers from both Canada and the United States. It was their unanimous recommendation to the Foundation that Mark Edlund's contributions epitomize the values represented by the award.
With the Kallemeyn Award, the Foundation and the international research community at the Forum thank Mark for his dedication, outstanding research, and efforts to foster collaborative and cooperative approaches that truly carry forward the Kallemeyn "legacy" and which have contributed immensely to advancing science and management in the basin.
A resounding "congratulations" and thanks to Mark!