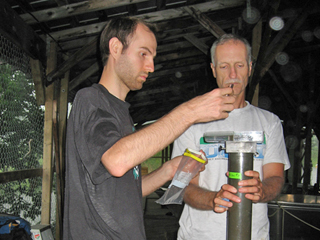 Dr. Arthur Zastepa (left), Environment and Climate Change Canada, will lead nutrient and algae work on Lake of the Woods. Pictured in 2010 with core of lake sediments.Scientists from Environment and Climate Change Canada (ECCC) started work on Lake of the Woods this winter. They collected samples to characterized the water chemistry, algae community, nutrient conditions, and the role of nutrient release from the sediments under low oxygen conditions under ice cover, in contributing to the nutrient loads and summer algae blooms.
This is part of the enhanced monitoring and research being initiated by ECCC. Full details of the ECCC science plan are still evolving. An overview of the science plan was presented at the International Rainy-Lake of the Woods Watershed Forum in early March.

The ECCC crew made two trips to install sampling gear and to collect samples in the northern portions of the lake, near Kenora and in the Bigstone Bay area, Poplar Bay and Clearwater Bay areas -- with some adjustment of their planned locations because of the ice conditions this winter.
Arthur Zastepa its the lead scientist for Environment Canada on the nutrient and blue green algae portions of the science plan. Back in 2010, as a post doctoral fellow, Arthur conducted research into the accumulation of algal toxins in lake sediments cores on Lake of the Woods. We expect to see the ECCC crew out on the lake again in June and September.