The satellite view from space is compelling of blue green algae blooms covering Lake of the Woods. Dr. Caren Binding of ECCC is harnessing these images for near real-time tracking of algae blooms and to develop indices of bloom severity, intensity, extent and duration. These indices may prove to be very useful in monitoring and measuring the effectiveness of efforts to cutting phosphorus to reduce harmful algae blooms.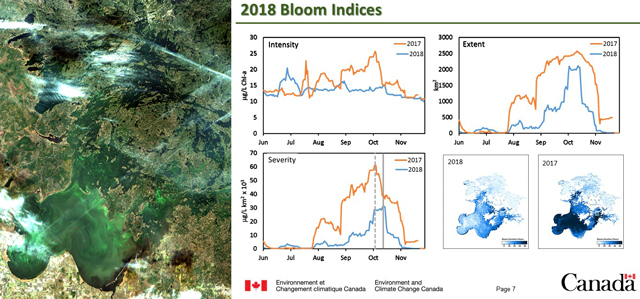 Satellite tools that assess algae bloom severity daily in near real-time have promise in early warning and monitoring effectiveness of phosphorus cuts.The high resolution (both in time and space) of the imagery and the information that Dr. Binding is extracting from it, is improving our understanding of how blooms develop and progress through the lake and may provide some near-real time early warning of risks of blooms and algae toxins. Her research is providing great insights into what factors (temperature, wind, rain, nutrients, etc.) drive algae blooms and contribute to year to year variability and even daily variability in bloom occurrences. The lake-wide perspective and high resolution of the satellite images will provide important insights for evaluating the lake's health, developing objectives for different parts of the lake, and assessing response to potential nutrient reduction targets.
Dr. Binding and her team are working on a web-based tool to display to the public near real-time updates, displaying a bloom map and the numerical indices of bloom severity. The plan is to roll out this online tool later this year.
Profiles of this project and the other science projects underway by Environment and Climate Change Canada on Lake of the Woods are available at the Foundation's website: www.lowwsf.com/eccc-science.