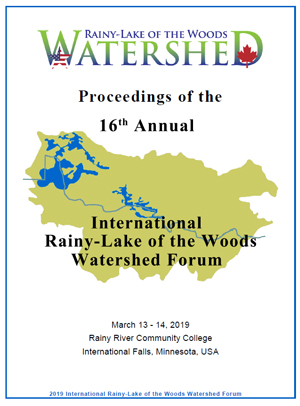 The pdf Proceeedings Report of the 2019 International Rainy-Lake of the Woods Watershed Forum (13.11 MB) is now available.
Lake of the Woods and its watershed went under the microscope again at the 2019 International Rainy-Lake of the Woods Watershed Forum, March 13-14 at the Rainy River Community College in International Falls, Minnesota. The auditorium was jam-packed with 165 researchers, resource managers, policy makers and members of the public attending – a near record attendance despite a major winter storm in the area.
Participants reflected a broad range of interests and involvement in the watershed, representing 62 organizations, including local governments, soil and water conservation districts, provincial and state governments, federal governments, U.S. Tribes, Canadian First Nations, the International Joint Commission, industry, non-governmental organizations, universities, undergraduate and graduate students, and citizens interested in the future health of our watershed.
This year's Forum featured 34 presentations during the two-day symposium and posters sessions. There were focus session on: binational updates, federal Canadian science, ecosystem studies at the Experimental Lakes Area, and management implications of research completed over the past decade.
Click here to view or download pdf 2019 Forum Proceedings Report (13.11 MB) .