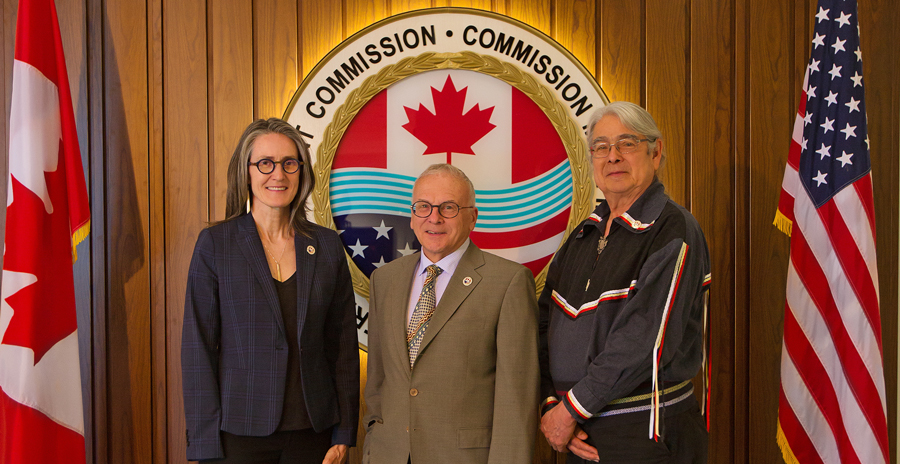 Pierre Béland, Merrell-Ann Phare and Henry Lickers take oaths of office as IJC Canadian Commissioners
Friday, May 17, 2019
At a meeting of the International Joint Commission (IJC) yesterday, Commissioners Pierre Béland, Merrell-Ann Phare and F. Henry Lickers made a solemn declaration to faithfully and impartially perform the duties assigned under the Boundary Waters Treaty.
Pierre Béland was appointed as Chair of the Canadian Section of the International Joint Commission. Merrell-Ann Phare and Henry Lickers were appointed as Canadian Commissioners. All were appointed by Her Majesty on the recommendation of the Governor-in-Council, effective May 9, 2019, for a four year term.
The International Joint Commission prevents and resolves disputes between the United States of America and Canada under the 1909 Boundary Waters Treaty and pursues the common good of both countries as an independent and objective advisor to the two governments.
Contacts:
| | | |
| --- | --- | --- |
| Sarah Lobrichon | 613-992-5368 | This email address is being protected from spambots. You need JavaScript enabled to view it. |
| Frank Bevacqua | 202-736-9024 | This email address is being protected from spambots. You need JavaScript enabled to view it. |