Trent University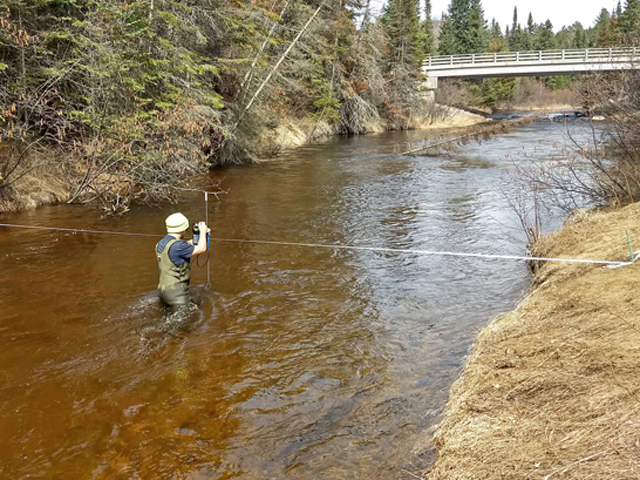 Andrew Williams, MSc. candidate, Trent U. measuring stream flow on the Pigeon River. has been monitoring nutrients flowing to Lake of the Woods via tributaries since April 2018. The research team, led by Dr. Catherine Eimers, continued this work this summer, with much of the heavy lifting being done by MSc. candidate Andrew Williams. We expect the results of Andrew's thesis research to be extremely useful in identifying concrete actions that can be taken to reduce phosphorus loading to Lake of the Woods, to combat the harmful algal blooms. The objectives of his thesis work will be to:
update the phosphorus budget for Lake of the Woods with current measured values of phosphorus from tributaries with those only estimated previously;
identify 'hotspots' (e.g., locations, landcovers/uses) and 'hot moments' (i.e., storm events, seasons) of nutrient delivery within the basin; and
use this information to recommend options for nutrient best management practices and a future monitoring strategy within the basin.
Andrew's thesis research is being supported by a grant from the Lake of the Woods Water Sustainability Foundation to Trent University, with matching funds from a Mitacs Accellerate Grant. Mitacs is a not-for-profit organization that supports training of researchers in Canada.
For more information at Trent U's Environmental Geosciences Research Group, and its Lake of the Woods Project, visit the Trent Lake of the Woods project website.