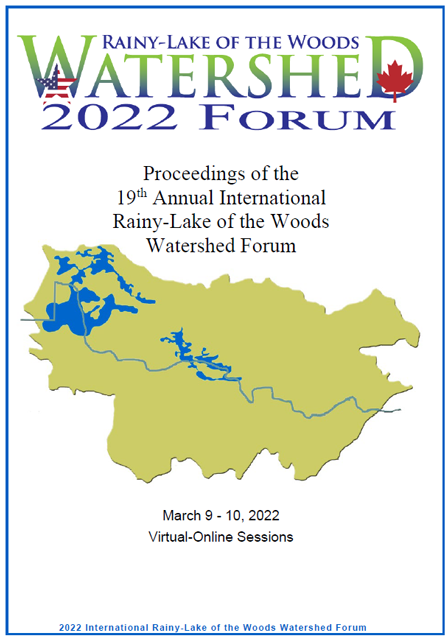 The Proceedings Report of the 2022 International Rainy-Lake of the Woods Watershed Forum is available for download at the Foundation's website: lowwsf.com/forum-proceedings. Held March 9-10 as a virtual online event, 144 researchers, resource managers, policy makers, and members of the public put Lake of the Woods and its watershed under the microscope. The report covers a wide range of subjects: including: water governance and Indegenous perspectives, the State of the Basin Report, nutrients & algae, invasive species, and emerging issues and technologies.

Most presentations were recorded and are available for viewing for a limited time at lowwsf.com/watershed-forumlowwsf.com/watershed-forumlowwsf.com/watershed-forum.

Please download a copy of the report or go to the website to view any presentation recordings that are of interest to you.
Seventy organizations working in the watershed were represented at the Forum with 25 studies featured during the two-day symposium, with themes of Water Governance, State of the Basin, Nutrients & Algae, and Emerging Issues and Technologies. Highlights included:
A keynote on ""Legal personhood, Indigenous and international governance, and relation to water", with Indigenous scholar and lawyer, Professor Aimée Craft.
Discussion of key findings of the

pdf

Rainy-Lake of the Woods State of the Basin Report

(12.17 MB)

that was released in March.
A presentation by Scott Higgins, IISD-Experimental Lakes Area, showing that the duration of ice-cover on our lakes is getting shorter by about 4 days per decade.
"Sediment fingerprinting" to trace phosphorus in Lake of the Woods back upstream to its origins, to help target restoration efforts.
Research into phosphorus loads to Lake of the Woods and the Rainy River from tributaries in the Canadian portion of the watershed.
Study of the effects of microplastics on fish physiology.
Numerous other studies were presented, which can be viewed at: lowwsf.com/watershed-forum