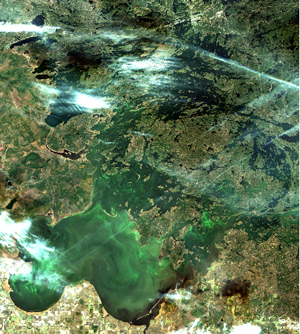 ESA's Sentinel-2A satellite image, capturing algal blooms on Lake of the Woods October 20, 2017 (courtesy of Caren Binding, Environment and Climate Change Canada)The view from space is compelling with blue green algae blooms covering most of the lake in late summer and fall as can be seen in this European Space Agency (ESA) Sentinel satellite image from October.
A new generation of satellite sensors on board the ESA Sentinel satellites came on line this year – delivering high resolution detection and tracking of algae blooms. This technology is being harnessed by Dr. Caren Binding at Environment and Climate Change Canada to develop near real time assessment and tracking of algae blooms and measures of severity. Dr. Caren Binding will present a preliminary report on this work at our Watershed Forum in March.
The lake-wide context and perspective will provide important insights for evaluating the lake's health, developing objectives for different parts of the lake, and assessing response to potential nutrient reduction targets. The high resolution (both in time and space) of the imagery may also improve our understanding of how blooms develop and progress through the lake and may provide some near-real time early warning of risks of blooms and algae toxins.