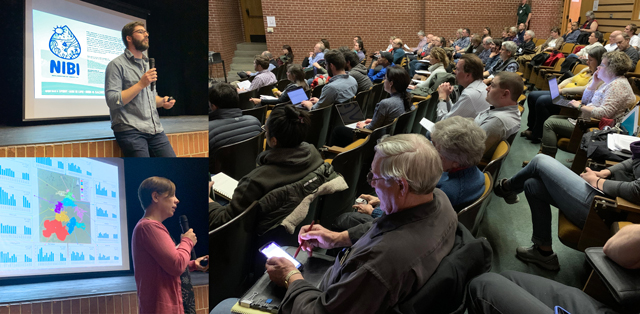 Crowd at Forum attend presentations by Lucas King, Grand Council Treaty 3 on the Treaty 3 Nibi (water) Declaration and by Caren Binding, Environment and Climate Change Canada on the use of satellite remote sensing to develop indices of algae extent, duration and severity on Lake of the Woods.Our annual International Rainy-Lake of the Woods Watershed Forum took place March 11-12 in International Falls, Minnesota.

As the Forum attendees focused their eyes on the results of research in our watershed, little did we realize that the world was changing rapidly around us with the first declaration of COVID-19 as pandemic reaching us on the last day of the Forum and restrictions on travel and gatherings soon to come.

Elder Priscilla Simard of the Coochiching First Nation and Women's Council of Grand Council Treaty #3 helped open the Forum with a prayer and ceremony honouring water and the work to be done together to respect and protect it.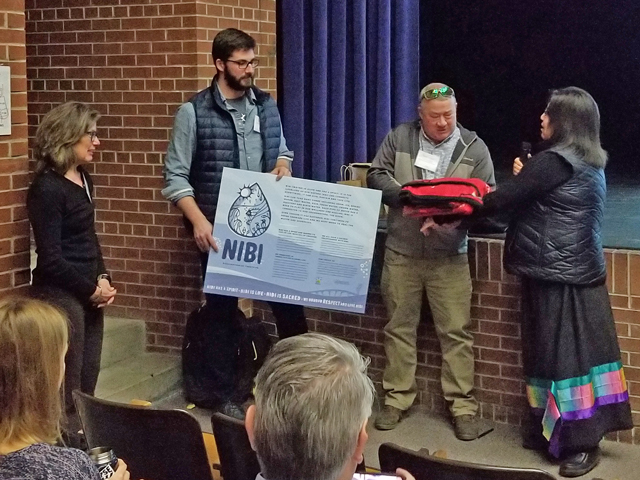 Presentation from Chief Lorraine Cobiness; from left: Kelli Saunders, LOWWSF; Lucas King, GCT#3; Todd Sellers, LOWWSF; Chief Lorraine Cobiness, Niisaachewan Anishinaabe Nation.Chief Lorraine Cobiness of Niisaachewan Anishinaabe Nation presented the Foundation with the Nibi (Water) Declaration of Grand Council Treaty #3 and a ceremonial gift of a blanket and spoke to how the Nibi Declaration provides teachings and principles to fulfill our responsibilities for honouring and respecting Nibi that unites us all.
The Forum program featured an update on the Minnesota plan to cut phosphorus, a focus session on toxins produced by algae, a full day devoted to outcomes of Environment Canada's Lake of the Woods science program and an international panel discussion session on next steps – with science as the foundation, how do Canadian and American agencies move forward to develop a plan for the lake. It's impossible to summarize the huge volume of information in the 39 oral and poster presentations during the two days, so I would encourage you to read the proceedings report, available for download at: www.lowwsf.com/forum-proceedings. For now, here's a few highlights:
The Minnesota Pollution Control Agency's plan to cut phosphorus is in final review by the US EPA and the MPCA plans to take it through public consultation this coming summer prior to finalizing it. Obviously, timelines on this may now change, due to the COVID-19 situation.
Environment and Climate Change Canada made ten research presentations – far too much to do justice to here, so just a few summary comments from this work:
Modern septic drain fields function effectively in preventing phosphorus from entering the lake.
Satellite remote sensing may provide useful tools to track and assess indices of algae bloom severity. Bloom severity indices have decreased since 2002, suggesting that the lake may be responding to historical decreases in phosphorus loads.
The watershed and lake models developed can be used to identify hotspots for nutrient loads and applicability of best management practices; the models indicate that lake phosphorus concentrations and algae can respond to reductions in watershed phosphorus sources and that cyanobacteria (blue green algae) reductions are more pronounced that other algae.
Trent University researchers, working with Environment and Climate Change Canada, found that there are potentially important hotspots of phosphorus loading in small Ontario streams flowing into the Rainy River and Lake of the Woods that are candidates for best management practices.