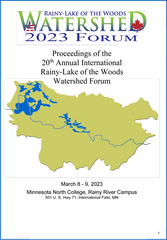 The Proceedings Report of the 2023 International Rainy-Lake of the Woods Watershed Forum is available for download at the Foundation's website: lowwsf.com/forum-proceedings. Held March 8-9 in International Falls Minnesota, 132 researchers, resource managers, policy makers, and members of the public put Lake of the Woods and its watershed under the microscope. The report covers a wide range of subjects – Many of the 25 presentations this year focused on knowledge and tools that will inform management actions. The schedule was full, with research presentations split among six sessions covering a wide range of disciplines including:
water quality management and monitoring
multinational watershed management and governance studies
nutrients, cyanobacteria and algal blooms
emergent technologies for remote sensing and monitoring, and
watershed ecology and biodiversity.
Most presentations were recorded and are available for viewing for a limited time at lowwsf.com/watershed-forum.
Please download a copy of the report or go to the website to view any presentation recordings that are of interest to you.
Sixty-one organizatons working in the watershed were represented by the 132 participants, including from local governments, soil and water conservation districts, provincial and state governments, federal governments, U.S. Tribes, Canadian First Nations and Métis peoples, the International Joint Commission, industry, non-governmental organizations, universities, undergraduate and graduate students, and citizens interested in the future health of our watershed. Twenty-five studies were featured during the one and half day symposium in sessions for:
A moderated panel discussion on "getting to shared water quality objectives" for Lake of the Woods
Watershed updates: Research to action
Planning and Governance
Nutrients, cyanobacteria, and toxins
Emerging Issues and Technologies
Ecology and Biodiversity
Please pdf download a copy of the report (9.19 MB) or go to the website to view any presentation recordings that are of interest to you.