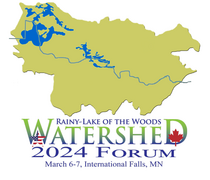 Location: Minnesota North College - Rainy River campus, International Falls, MN.

Date: March 6–7, 2024

Overview: Professional symposium for research and resource managers, policy makers and the public interested in the Rainy-Lake of the Woods Watershed.

Themes: Climate change, nutrients and algae; paeleolimnology, aquatic invasive species; sediment studies; hydrology, fisheries, emerging technologies and more...

We are also planning a focus session on water quality objectives, alerts, and core monitoring needs.

Abstract Deadline: December 15, 2023. Please submit the following to This email address is being protected from spambots. You need JavaScript enabled to view it.
Presenter Information: Name, Research Organization or Agency, Mailing Address, Telephone, Email, Brief Bio.
Submittal Information: Author(s), Presentation or Poster, Title, Abstract, Location of study (i.e., lake name, river name, or GPS coordinate etc.
Registration will open January 4, 2024 — But for now, save the date and get your abstracts in early!

Conference details: more details will be coming soon this fall at the Foundation's website www.lowwsf.com/watershed-forum.